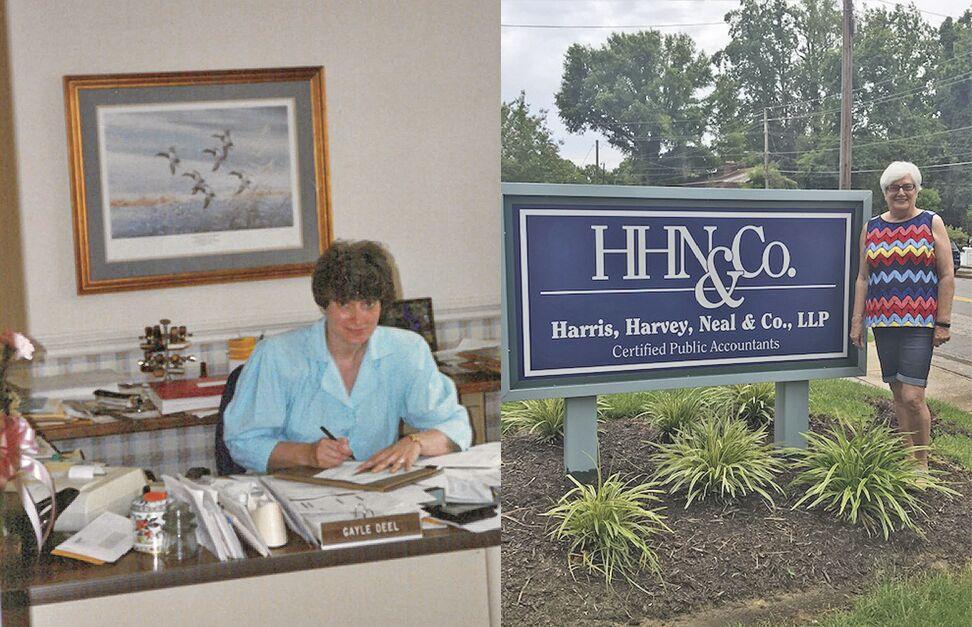 wife Gretna retires after 56 years with Harris, Harvey, Neal & Co. | New
GRETNA, Virginia – Gayle Deel retired from Harris, Harvey, Neal & Co. after 56 years of service.
She worked as a chartered accountant (CPA) for the company. Deel currently lives in Gretna and plans to enjoy his retirement with his new open schedule.
Deel started working at a very young age. "When I went to work in 1965, I had just graduated from high school, I didn't even know what a CPA was doing. I didn't know what kind of business it was, "she said. "The man I went to work for, Bob Neal, was very patient, he trained me to do what he wanted. At the time, we were just the two of us. I did his typing, his bookkeeping, I did everything.
Deel worked with Bob Neal until his death in 1988. "He was a great person to work with and a lot of what I know today can be attributed to him," she said.
Until 2020, the Harris, Harvey, Neal & Co. office was located on South Main Street. "Probably in the 1970s we moved into the old Ford building, which Ben Davenport is remodeling right now," Deel said. "We owned the front of the building, they owned the back of the building. They needed the extra space so they bought the front of the building and we bought this building on a military road and renovated it for our office.
Over the years, Deel has noted its adaptation to new technologies. "At first I was just a typist. Bob did the tax returns by hand in pencil. I typed them up, reread them and gave them to her, "she said. "The first one [computer] we had in our office was one of those fat old folks – I don't know what you call it – we typed it in and it was printed on one of those rolls of paper with the power bars on the side. She said.
While doing everything by hand can be tedious, Deel mentioned the frustrations with new technology. "I remember playing the role of payer, at the time it was Whittle Plywood. It's Columbia Forest now, but back then it was Whittle Ply Wood. They probably had at least 50 employees, maybe more, "she said. "The first time I had to do it on this machine in the office, I bet I had to do it ten times. Every time I have done this and checked something, something was wrong. You couldn't delete a thing. You had to delete the whole file and start over. It took a long time to finish paying for the role that night.
From handwritten and typed documents to semi-digital computers, Harris, Harvey, Neal & Co. have turned to more modern computers. "Somewhere over the years we went to computers. "I don't remember exactly when we went to IT, but I remember they sent us to DCC for some IT training. I had never used a computer in my life, "said Deel. "The lady who taught the class told us how to move objects with the mouse. I told her 'mine is not working' and she said 'you have to put it down for it to work'.
Even with the change in technology, Deel doesn't think it made too much of a difference. "People are basically the same. I don't make much of a difference in the people themselves. We have always had good clients who are easy to work with, "she said.
Deel's retirement did not require her to immediately leave Harris, Harvey, Neal & Co., "she said." Now I'm officially gone. It took a while to get used to it, I'll tell you. say.
Deel remarked on the workload and flow she has grown used to over her 56 years. "When we were full time, I was probably working 35 hours a week. We are open from eight to five and we had lunch for an hour. But during tax season, we were working every day. I worked at night. I worked on Saturdays. When you are in tax time, everyone is working, "she said.
"Every Saturday there were no excuses, no matter what you had to do, you had to work."
Even with the demanding schedule during tax season, few people are exhausted from the process. "For the last ten years, probably, they've closed on Fridays out of season. I think that's the reason most people stay. We have very little turnover, "she said. "People love the four-day work week. If you can work four days eight months a year, then you don't mind the six days in winter so much.
After officially changing ranks, Deel's role in the company changed somewhat. "In the last five years that I've worked, I haven't done anything other than Harris, Harvey, Neal. I paid their pay, I paid their bills, I did their accounts. It was strictly Harris, Harvey, Neal. I didn't have any clients, "she said. "Before, I had clients. I did their accounting. I did their paid roles. I did whatever they needed me to do for them.
Now that Deel is relieved of her chores and has plenty of free time, she has plans to come. "We have always traveled a lot. Of course, last year we couldn't do anything. It was our 50e wedding anniversary this year. For our 50e anniversary, we're taking the Viking River cruise, "she said. "You can do the Danube, but we do the Rhine. We are going from Amsterdam to Basel, Switzerland. Deel is excited for her late summer trip.
Deel's commitment to Harris, Harvey, Neal & Co. was seen by his family, especially his sister. "My sister was a nurse and she was constantly changing jobs. I told him once: "You are changing jobs more than anyone else I have ever seen." She said to me, "Well, you're staying in the same longer than anyone I've ever seen," Deel said.
Deel is happy to work where she has worked for as long as she has. "I feel like I've worked with some of the best in the business. I have always enjoyed interactions with clients and many have become personal friends over the years, "she said. "I feel privileged to have been a part of it."