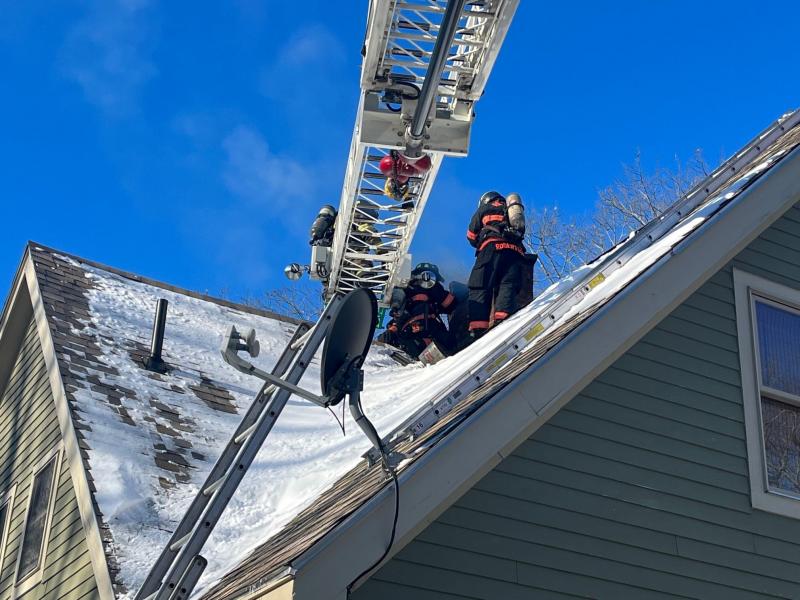 The multitude of chimney fires this winter illustrates the safety slippages
A structure fire in Hope in early February that burned a cabin to the ground is just one fire that Midcoast Fire Services responded to over the past winter with probable causes associated with the burning of the wood in the stoves. In this case, the cabin burned to the ground and firefighters not only battled down a long icy driveway, but put themselves in personal danger.
The occupant survived, waking up coughing from smoke filling his lungs.
He was lucky. But the safety of wood stoves is not to be taken lightly. Mainers often burn wood and keep stoves running all winter. And although daylight hours have slowly increased since the winter solstice in December, temperatures still hover in the low single digits as winter storms drop significant amounts of snow and freezing rain.
According to the Chimney Safety Institute of America (CSIA), more than 20,000 home fires each year result from chimney fires and are caused by lack of maintenance.
Following regular maintenance and safety tips is essential to help prevent many chimney fires. CSIA and FireRescue1, the national first responder training organization, recommend the following:
Have your chimney swept before the first fire of the season. Chimneys should be cleaned periodically because burning wood creates byproducts like soot and creosote, a sticky or candy-like glaze that results from incomplete combustion.
Have your chimney inspected. A standard inspection checks for creosote buildup, flue blockages, leaks, cracks, damage, and other issues that could cause costly problems or increase the risk of fire. If there is a chimney fire, it is important to have the chimney inspected after the fire to ensure that no structural damage has occurred during the incident.
Prevent creosote buildup. As the wood burns in the hearth, the by-products of the fire (smoke, water vapor, gas, unburned wood particles, hydrocarbons, tar mist and other minerals) rise up the chimney, where condensation occurs, creating a sticky residue called creosote, which sticks to the walls of the chimney and could start a fire. Prevent buildup by keeping fireplace doors open, keeping the damper wide open, and using seasoned wood.
Creosote-fueled fires are considered extremely dangerous because they burn longer, longer and are difficult to extinguish.
Cover the fireplace. A fireplace screen helps prevent embers or sparks from jumping out and catching nearby carpet or furniture on fire.
Don't sleep or leave the house with the fire on. Wait until the embers are completely extinguished in the fireplace before you go to bed for the night.
Dispose of ashes safely. Ashes from a recently burned fire should be placed in a metal container with a lid and placed at least three feet from the perimeter of your home.
It can be difficult to determine when a chimney fire is starting, but typical warning signs include a loud roaring sound coming from the chimney, ashes and debris coming out of the top of the chimney, black smoke coming from the chimney and popping and creaking noises. In the chimney.
Invest in carbon monoxide detectors in your home. Carbon monoxide is a problem with any appliance where combustion is present, especially wood stoves, so installing carbon monoxide detectors throughout your home is highly recommended. Batteries should be changed every six months or so, and it's always wise to test your carbon monoxide and smoke detectors monthly. Contact your local fire department for information on the number of CO detectors needed in your home and the best location for them.
"The more you know about your chimney and venting system, and the more you understand what maintenance is needed and when, the easier it will be to reduce fire hazards, carbon monoxide hazards, and repair costs," according to AMSC.
Rockport Fire Chief Jason Peasley confirmed that checking the volume of creosote in a chimney is key to preventing a fire and possible costly fire damage home repairs.
Peasley attributed the cause of the recent chimney fire in Rockport on Jan. 31 to creosote buildup.
"With the long stretch of cold weather, many people are using their wood stoves or fireplaces 24/7, so it's important to check chimneys weekly during this cold snap, in addition to cleanings. and regular professional inspections," Peasley said.
A vertical flue can be checked by holding a mirror inside the stove when it is cold. Hold the mirror at a 45 degree angle directly below the duct opening. You should be able to estimate the amount of creosote buildup by the amount of daylight you can see filtering through the top of the chimney, according to the CSIA.
Peasley said many local hardware stores sell creosote cleaning kits and cleaning tools for regular home maintenance and prevention.
Sarah Shepherd can be reached at [email protected]