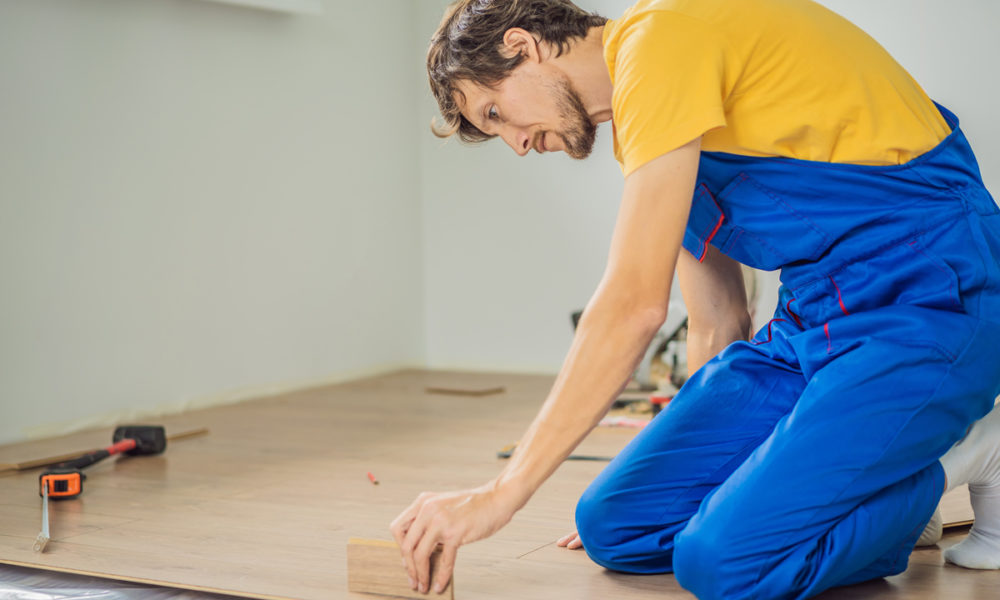 Love and marriage, milk and cookies, law and order. We all recognize these associations, but luxury and vinyl are two words I never thought would appear together, especially when describing flooring.
When my best friend moved to Florida, I flew in to help her settle into her new home. As soon as I entered the lobby, I was greeted by a strange smell and a wooden-looking plank floor that I couldn't identify. It turned out to be vinyl, with its volatile organic compounds (VOCs) still off-gassing from the recent installation.
Vinyl flooring has been around since the 1800s and used to contain asbestos, although the carcinogen was phased out of the manufacturing process in the 1980s. The product I saw was known as Luxury Vinyl Plank (LVP) and was totally different from the sheet vinyl that was installed in our kitchens and bathrooms of yesteryear.
In 1990, Swedish chemical company Perstorp patented its Pergo laminate flooring. Very popular, it was considered the low cost DIY installation alternative to hardwood. These floorboards used photographs of different wood species, with a protective melamine topcoat with aluminum oxide.
The planks were easy for a homeowner to "tap" or "click" into place, and they could be installed over a variety of existing floors, including old asbestos tiles. Unfortunately, they also chipped, warped, and opened their seams with exposure to water and moisture. They also felt spongy underfoot and gave off a hollow sonic echo never heard when walking on real wood.
A few years ago, an agent from my consortium of Facebook real estate professionals asked if LVP floors might be appropriate in a $3 million+ California home.
It took me back to 2005, when I was living in San Diego. While looking for a house there, I had learned that there were two materials needed in a typical suburban home: 1) honed travertine tiles with a dewy cast and 2) whatever was popular 30 years earlier. . I intended to be the savior of the 70s ranch, but only stayed in the area long enough to bring my own home up to East Coast standards.
So it's no surprise to hear the collective nods from the opposite coast, endorsing the use of LVP floors in a luxury market. At the time, I was appalled.
It now appears that premium laminate and vinyl floors are gaining popularity among mid-priced home remodelers in the DMV. The manufacturing process has also been refined, and the smelly off-gassing of LVP usually dissipates within a few weeks.
So, between laminate floors and luxury vinyl floors, who wins and why?
Ease of Installation: Due to its thickness and installation as a floating floor, laminate is more forgiving of imperfections in the subfloor underneath. If you are working with a flat surface, the bonded version of LVP is thinner and can be cut to fit without power tools. Verdict: A draw, depending on your handyman skills or those of your installer.
Water Resistance: LVP is considered waterproof and is the winner in this category, making it the best choice for kitchens and bathrooms. If you're cursed with a leaking dishwasher on laminate flooring, you risk finding your floors "dead in the water".
Durability: The protective top layer of each product will determine durability. With LVP, a 12mm coat is considered commercial grade and will provide increased scratch protection, but is prone to fading in direct sunlight.
The laminate carries an Abrasion Criteria (AC) rating to measure durability. An AC rating of at least three is recommended for residential use and can withstand fewer dents over time. An AC4 rating can handle most children and pets.
Budget: Both products are equally economical, ranging in price per square foot from $1 to $10 for laminate and $1 to $14 for LVP. Add $1 per square foot if you need additional underlayment.
Appearance: Ultimately, you want a floor that not only works well, but looks good. The quality of laminate and vinyl has improved to such a degree that they can simulate the look of wood, tile and stone. however, it is not a product you want to select online.
Visit a few flooring stores to look, touch and even smell the products. Take samples home if you can, to view them in both natural and artificial light. The winner will become clear.
Whichever you choose, I bet the variety of species, stains available, and sanding capabilities will allow real wood to continue its reign as true luxury flooring, even if the trend returns to covering it with carpet. .
Valerie M. Blake is a licensed associate broker in DC, Md. and Va. with RLAH Real Estate. Call or text her at (202) 246-8602, email her at DCHomeQuest.com or follow her on Facebook at TheRealst8ofAffairs.