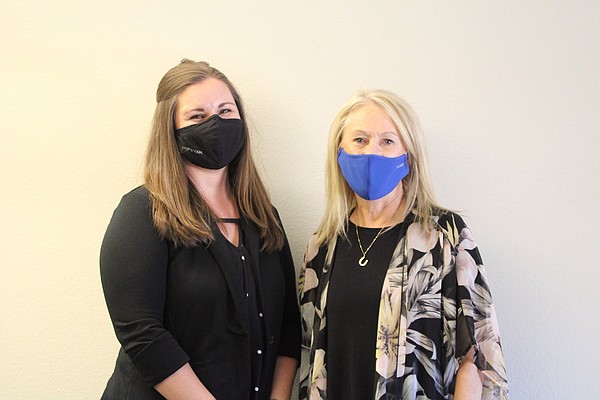 Local organizations raise awareness and fund Domestic Violence Month
October is Domestic Violence Awareness Month, and local and state community organizations are working to raise awareness and fundraise to combat the problem.
The Arkansas Coalition Against Domestic Violence, in conjunction with the Garland County Domestic Violence Task Force, will sponsor "The Silent Witness Project" at The Warehouse, 301 E. Broadway St., while walking through the gallery from 5 p.m. to 9 p.m. today.
"These are life-size plywood silhouettes (each) of a murder victim in a domestic violence situation," Susan Millerd, task force co-chair and Title IX coordinator at National Park College, told The Sentinel-Record.
"It's life-size, and all over the figure is a plaque that identifies who the person is and where it happened. It is very moving. It is a moving experience to walk through the figures", a- she declared.
Each is personalized to represent the children, women, men and wheelchair victims murdered in the state of Arkansas in the past year, according to a press release.
"These are real stories. They are by no means fabricated. And they are, for the most part, local, or at least in Arkansas," Ashley Thompson, co-chair of the task force and vice-chair of the Chamber of Commerce of Greater Hot Springs. , the newspaper said.
https://www.youtube.com/watch?v=/QXX9DhzOYUc
Video not playing? Click here https://www.youtube.com/embed/QXX9DhzOYUc
"Last year when we had it at National Park College there were a few figures identified as Garland County. And so that really brings it home and is not a work of art," she declared. "It's not fictional, it's something that's to call attention to the seriousness of it and make sure people are aware that this is happening right here. And you don't. not to see it as a bigger city, a bigger type of problem state. "
The national Silent Witness initiative began in 1990 to support an end to domestic violence through community exhibitions, according to its website, starting with a small group of volunteers in Minnesota and growing into an international presence, with projects in all 50 states and 23 countries.
According to the Arkansas Coalition Against Domestic Violence website, known and confirmed homicides for domestic violence in Arkansas in 2020 totaled 55, of which 32 were women, 17 were men, and six were children, of which 26 involved intimate partners.
"One of the things that always shocks me is the number of kids," Millerd said. "The Silent Witness Project will bring the stories of these people and families, you know, who are affected by these deaths. And so we're very grateful that we can bring this event to our community, because I think it really is. hits you when you see these little children. "
"If you've seen it once, you haven't seen it twice, because these aren't the same stories that come out every year that they're updated. So we like to bring it in for the Month of. awareness of domestic violence because it's relevant in these times when we're trying to raise awareness, but it's also changing and people have to see that it's an ongoing problem, "said Thompson.
The Garland County Domestic Violence Task Force is also currently fundraising for a "hotline project" to place the local domestic violence hotline number on stickers or signs. removable panels in businesses, bathrooms and public spaces in and around the county. , so that victims of domestic violence and their families can access the emergency services number from anywhere.
"What we're trying to do is make sure the community knows there is a 24 hour hotline, a local hotline, a local number, for those experiencing domestic violence," Thompson said.
"Whether or not they need emergency shelter will be decided over the phone. If they are not looking for shelter, if they are looking for other resources – therapy, legal services, advocacy and other resources – are available, "she said. "But the community is not well aware of this. The victims receive the services, they find the shelter, but the community has not made a big effort to access the shelter and know the hotline number."
Thompson said they were trying to involve businesses to get the number in men's and women's restrooms and local businesses "so that visitors and locals can access that hotline number. That is. a safe place to go. It's an easy place to get to. "
Thompson noted that sometimes the phone numbers on items such as business cards, brochures, or flyers "aren't safe to take home, they're not safe to put in your purse or store. on your phone. Abusers don't really like you having it But if you can go to a restaurant or public restroom and you can memorize the number or know that you are in a safe place to make a call … this is going to be helpful to obtain services for victims and their families.
Thompson pointed out that "These are not stickers, they are removable stickers that can go on any glass or smooth surface. So as long as we get the agreement of the business owners, our task force will go out and find companies that we will be willing to put this in there, either on the mirrors or on the shelves. Maybe even publicly on the doors of shops, if they allow it … wherever public places will let us put this hotline number. And it will be an easily accessible number. "
At NPC, "we certainly realize that when people go back to school, they change their lives," Millerd said. "And I think sometimes change brings stress within families, within relationships and part of the National Park College's active role in domestic violence is to make sure our students know that there is this wonderfully safe haven. sure where they can continue their online classes within the shelter and they don't have to drop out of school. I think there was a time when technology didn't exist and many victims of domestic violence dropped out of school. 'school. It is essential to educate these victims. And we have to put some of the hooks in the toilets on our campus. "