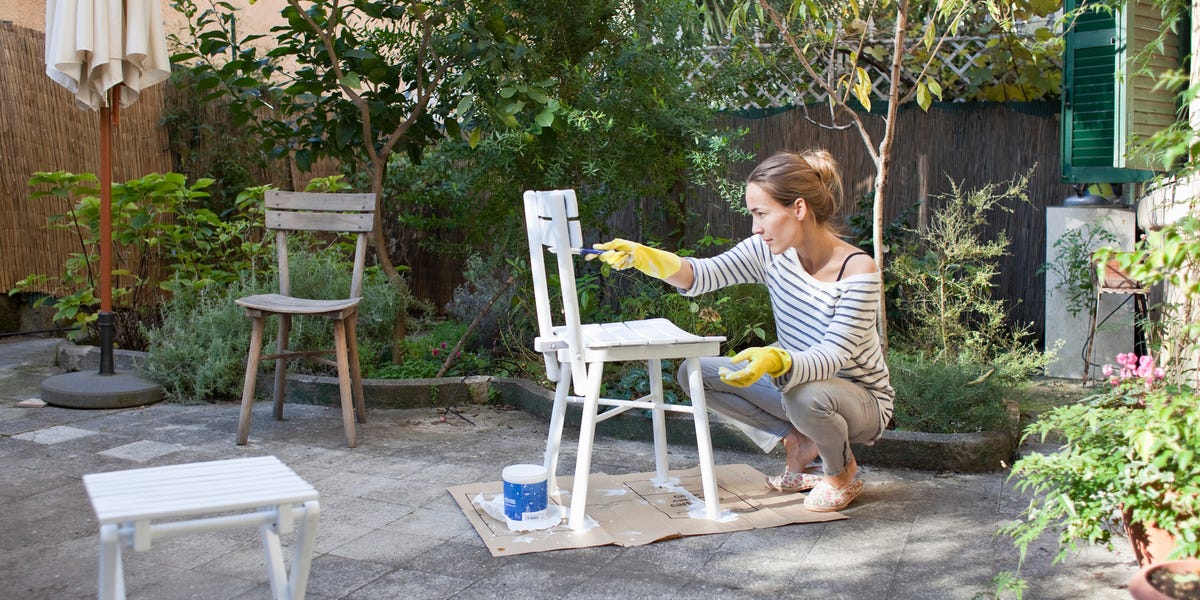 How to Paint Furniture Step by Step to Avoid the Biggest Mistakes
Are you looking to bring old wooden furniture back to life? A fresh coat of paint is an easy way to refresh its appearance and make it your own custom piece. Whether you have white paint or a fun color in mind, chalk or semi-gloss paint, you'll want to make sure your project looks as professional as possible in the end to sit nicely on your patio or indoors.
It's easy for a painting project not to go as planned. You may find that the paint peels off quickly and peels off, or that the finish isn't as smooth as you imagined. In the worst case, a project that goes wrong could cause you to start over from the beginning. So how to avoid this? And what is the best paint to use on wooden furniture to do this?
We have answers for you! After compiling all the most common mistakes we've seen over the years, we're sharing this helpful guide to painting furniture – the way it actually works.
1. Begin by sanding.
You'll often find tutorials that claim you don't need to sand, and there are also plenty of primers and paints out there promising no sanding is necessary. But from what I've learned over the years, sanding is a must. Be sure to start any painting project by sanding your surfaces with 150 grit sandpaper. (I use this Orbital sander with varying speeds.) Be careful not to dig into the surface though: you're just trying to roughen it up a bit so the primer has something to adhere to; you are not trying to strip the surface.
Tip: Use 80 grit if sanding furniture with existing varnish.
2. Remove any residue.
Once you've sanded, be sure to wipe down the surface with a sticky cloth to remove any residue. Trust me: do not use a paper towel and don't wonder if it would be better to use a lint-free cloth. Just use the dusting cloth!
3. Prime it.
If you are priming laminate furniture, use Zinsser BIN Shellac Primer. Otherwise, use Zinsser Bulls Eye 1-2-3 Primer. Start with a mini foam rollerand use a foam brush to access hard-to-reach areas. Let the primer dry according to the instructions on the primer box. Once completely dry, sand off the drips with a 220 grit sanding blockand wipe down your piece with a tack cloth.
4. Paint it!
Finally: it's time to paint! Use a mini foam roller apply three thin coats of semi-gloss latex paint. Allow six to eight hours between coats. It is important to sand between coats if you have any drips or residue on the piece. Use the same sanding block and a new sticky cloth. The new dusting cloth is very important here: you must remove every speck of lint and dust before applying the Polycrylic protective finish to the next step. So it's clear everything shows. I blamed everything from the dog to the paint for the tiny bits of fuzz I found while applying the polycrylic, but that's really because I didn't get it all off with the sticky cloth.
5. Protect it.
Finally, use a new mini foam roller to apply a thin layer of Polycrylic Protective Finish water-based protector in gloss. You want to make sure to go very lightly over this layer with the foam roller to smooth out any bubbles that may occur with the foam roller. Wait 72 hours for it to dry before using; otherwise, it may become sticky.
This content is created and maintained by a third party, and uploaded to this page to help users provide their email addresses. You may be able to find more information about this and similar content on piano.io