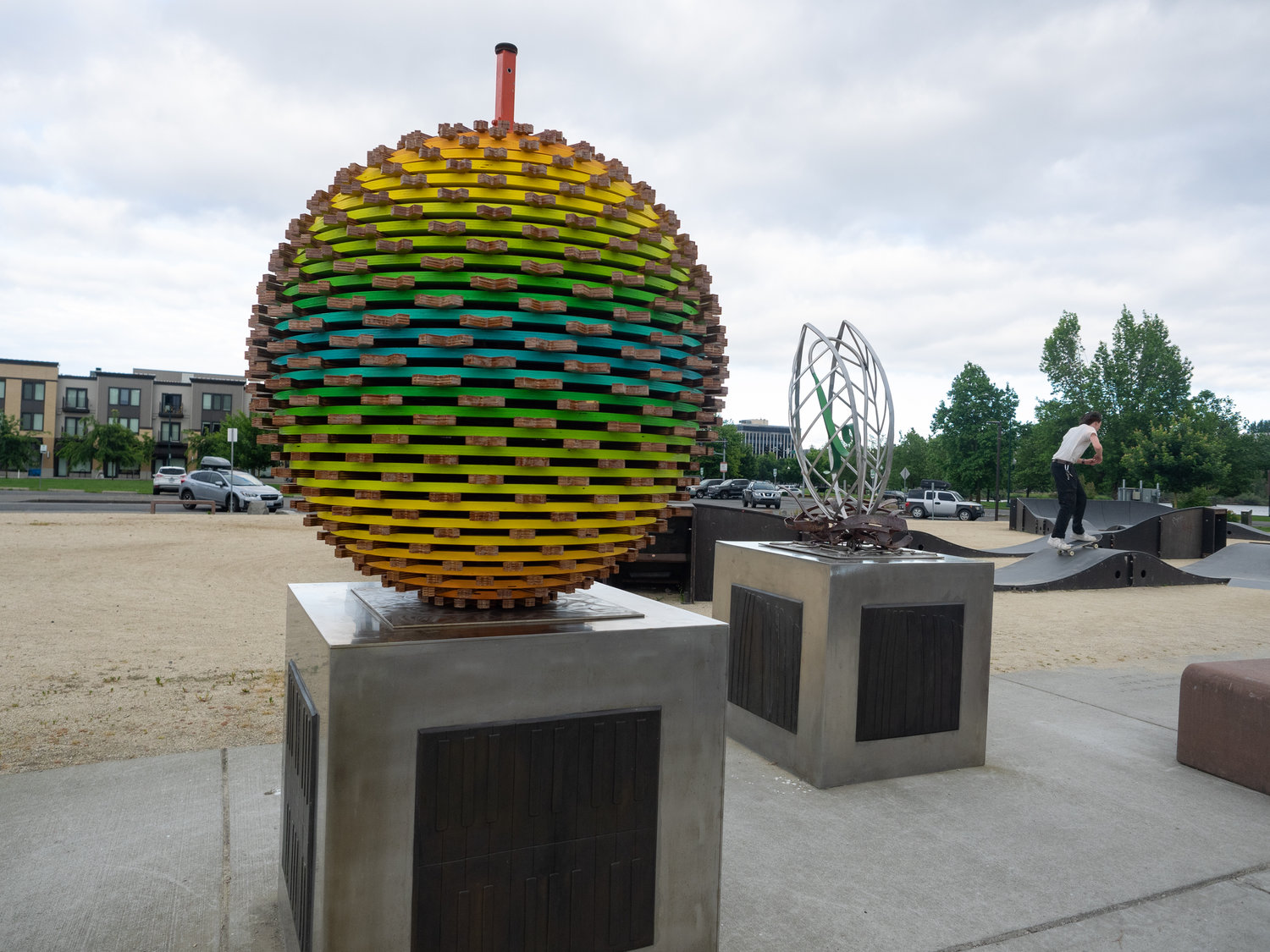 Delicious reading – admire the sculptures of Percival Landing and vote
By Sage Hamilton
Walk among the artworks of the Percival Plinth Project in Olympia. This year, the city is hosting 18 sculptures loaned by regional artists. The community can vote on it, and the piece that gets the most votes will receive an audience award. It will then be incorporated into the permanent art collection and exhibited.
On the city art webpageselection criteria include:
"Quality of sculpture includes evidence of artistic ability and originality or uniqueness of vision, technical skill, integrity of materials and craftsmanship.
The sculpture must be freestanding and able to attach to a 24″ x 24″ stainless steel connecting plate (provided) and be available for public display from June 2023 to June 2024.
The sculpture must not pose a risk to public safety, must be able to withstand exposure to the elements and unsupervised interactions, and must be maintenance free for the duration of the exhibit. Artists should expect that the sculpture may be climbed or marked during display.
Balance and diversity of materials and style among the selected sculptures.
Artists should keep in mind that the audience will be large and of all ages and that the artwork should be appropriate for display in a public place. Artwork that includes advertising or logos or that is political, religious or sexual in nature will not be considered."
Voting for works of art is open until July 30, one ballot per person. The sculptures will be on display until June 2023.
Here is a map which shows the 18 locations along the waterfront where the sculptures are located.
To vote on your favorite pieces click here.
On the Olympia Percival Plinth Project page it says:
One ballot per person, one vote per person. Voting open until July 30.
You must register with Engage Olympia to vote.
You don't need to be a resident of Olympia to participate.
The sculptures remain on display until June 2023.
The People's Choice winner will be announced at an Olympia City Council meeting in the fall of 2022.
Sculptors wishing to submit to the next installation must be from Washington or Oregon. They may submit up to two artworks each which are unique representations of their art and must have a valid commercial license. Details here.