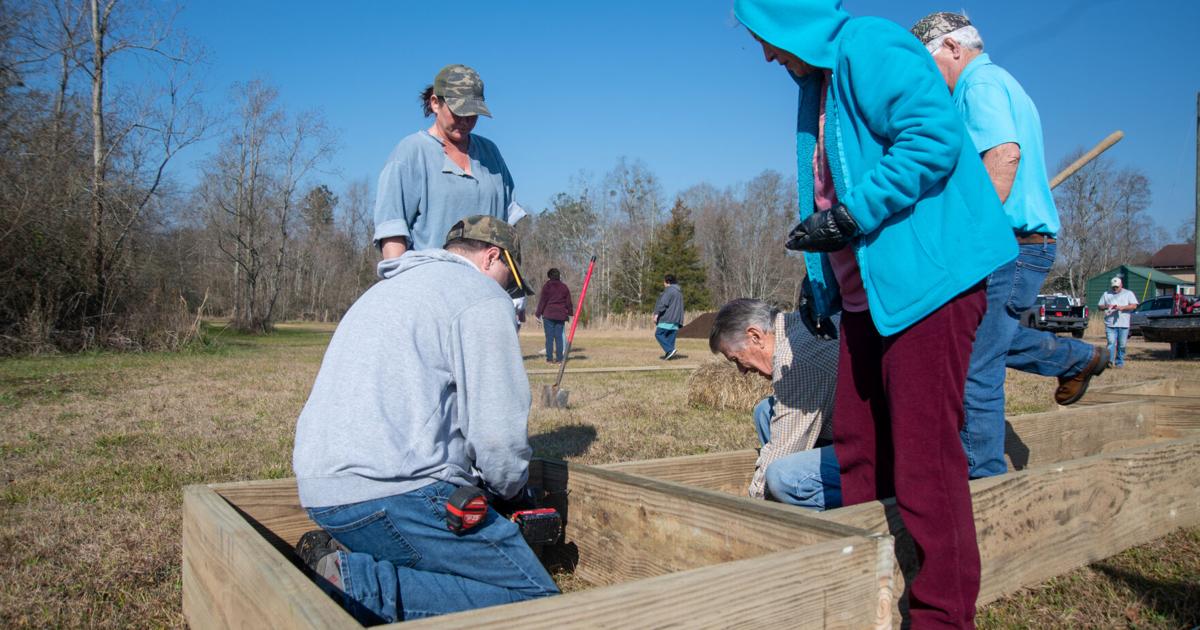 Cultivating Soso one project at a time | Free News
One Saturday morning in Soso, 15 people began building flowerbeds in a vacant lot near the tornado shelter. The beds will house plants, shrubs, evergreen summer fuchsias, drift roses, gardenias and shi-shi camellias. All with the aim of bringing pollinators and butterflies to the new space in downtown Soso – a butterfly garden.
The idea came from two members of the gardening club, who have their own gardens at their home in Soso. The club decided to plant it in the vacant land as it was the largest green space available in Soso, said member Linda Jefcoat.
"A lot of county garden clubs are doing this right now and planting milkweed to attract pollinators," Jefcoat said.
This is one of many projects the Soso Garden Club has worked on since Mayor Ralph Cahill established the club to restore Soso after a tornado ripped through the town in April 2020. Soso is still recovering from the devastation of the two-mile-wide tornado that destroyed hundreds of homes and businesses in seven Mississippi counties on Easter evening nearly two years ago.
"If the tornado had moved 100 yards, it would have swept through downtown," Cahill said. "In a way, we were lucky."
After the tornado, Cahill decided to ask the Garden Club to restore Soso. His first project was to put up flags on the city's main thoroughfare for the 4th of July. From there, the Garden Club sponsored a Christmas card contest in which children in grades 1-12 painted holiday-themed scenes on illuminated plywood panels downtown. Cahill has some of the best ideas, Jefcoat said.
"We had several members who thought it wouldn't work, but it actually worked," Jefcoat said.
The Soso Garden Club built a butterfly garden to add more color to the community and attract visitors to downtown. All funds to build the garden and other Garden Club projects come from donations and the mayor's salary. The Soso Garden Club now has approximately 22 members who volunteer their time to make Soso the perfect little Mississippi town.
With the butterfly garden, Cahill hopes to continue his mission of improving the city. Member Janet Gutherie said the project is an effort to attract more than butterflies. She hopes it will also help attract new businesses.
"We're also looking to attract people to be part of our community," she said. "We've even seen efforts from people who have never decorated before Christmas since we started all of this. A new daycare has also been built downtown, and you're starting to see other people getting involved and doing better for the community.
There are still several buildings in the area that are dilapidated from the tornado's destruction, but restoration takes time and effort, Gutherie said.
"We're improving Soso one project at a time," she said. "It's not going to happen overnight."
Some of the projects are small improvements that will have a big impact, like installing more streetlights in Soso, Cahill said.
"Currently, Soso has 36 lights. Louin has 85, Montrose has 45 and Sandersville has 235," Cahill said. "When you drive around downtown Soso at night, it is very dark. Mississippi Power is proposing to add 43 additional lights to Soso.
Cahill also went to the Department of Transportation after asking Clark's engineers to survey the city limits and asked the state agency to put up new signs on the edges of town. Five brand new road signs on Highways 28, 29, 533 and Feedmill and Shady School Roads now direct visitors that they are entering Soso. It turns out the town was actually a quarter of a mile larger than previous surveys had shown, Cahill said.
He hopes that House Bill 001, which would allow small towns to sell beer, will also be passed by the Mississippi Legislature. The sale of alcohol is already permitted in the town, which has two package stores a few hundred meters apart.
"We get all the cans and other cities get the revenue," Cahill said. "This bill would be a big problem for Soso."
His biggest goal, however, was to open a grocery store in Soso. Cahill decided to try to get a general dollar market. At present, the company is not planning to change the Dollar General to Soso, but it has not given up hope.
"We always try to have a grocery store here," Cahill said. "He is by no means dead."
Cahill's ideas don't stop there and the Soso Garden Club continues to collect donations to continue beautifying the town. All projects will lead to the bigger picture of making Soso a city where people want to live and visit. It will just take time, Cahill said.
"Rome wasn't built in a day," he says.