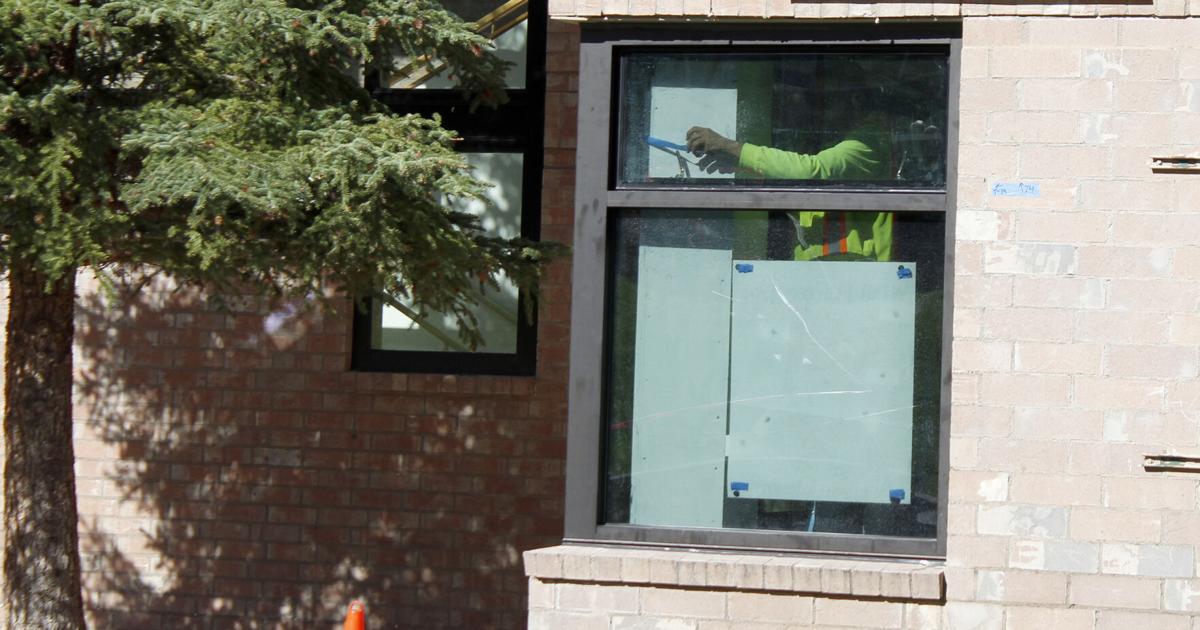 Aspen school district chief prepares for 'pretty normal' opening | New
After a summer of construction — and there's still a lot to do — Aspen School District Superintendent David Baugh is optimistic that a "pretty normal" school will open today.
On Tuesday, fences still ran around the circumference of green spaces, loose wires still hung in hallways and classrooms on unfinished floors, furniture lined hallways and plywood sat on window sills waiting their permanent replacement out of stock. Construction projects that began in June have suffered setbacks due to inflation, supply chain issues and minor setbacks including flooding.
Still, Baugh expects the impacts for students to be minimal, albeit mildly inconvenient.
"We are ready to go," he said. "We are better placed now than we were when we left in June, even with what remains to be done."
The current state of inflation and supply chain issues have caused delays to a host of projects in the district. Perhaps the most visible evidence relates to the delay in window deliveries, leaving some Aspen Elementary School classrooms with plywood panels surrounding them. The last windows are expected to arrive in October, the district said.
Additional labor shortages have slowed the replacement of floors in secondary and elementary schools — Baugh said workers are laying 2,000 square feet of flooring every day, "but we have a lot of square feet." Some areas still have exposed subflooring and lack trim, including on several interior staircases.
Additionally, some work on the elementary school – the oldest building with the greatest need – was stalled after heavy rains caused minor flooding in several classrooms, through a hallway and into the library. Baugh said water was flowing under a door from a location known to historically collect water, adding the need for updated drainage to the list of projects for continued construction in the summer. next.
The flooding necessitated major cleaning and replacement of drywall along a west-facing part of the school.
Much of the work done over the summer reflects points of need and neglect that the current administration has inherited. Among the most significant is a robust update to the school's fire alarm systems. Baugh said that previously a triggered fire alarm would not tell the fire department where it went off on campus. The new system reduces it to the classroom.
The neighborhood also replaced the elementary school's entrance with a new system that requires a guest to check in at the front desk through a protective glass before being buzzed inside. The middle school already has an internal checkpoint and the high school is due to receive one next summer.
Additional projects, such as replacing the main stairway at Aspen High School, a snowmelt system, and replacing, renovating or updating space for The Cottage, Kindergarten of the district, were discontinued due to supply chain shortages and increased costs.
Staff feared the district was not ready to open. But Baugh refuted this, saying that even if some work is not completed, the impact on students and teachers would be an inconvenience more than anything.
"When you don't understand what's going on it can be easy to worry, but we've been in the press about it all summer," he said. "Every construction job I've ever done has ended at the 11th hour. We've had workers and cleaners come in six or seven days a week. And we wouldn't put our students or our teachers in a dangerous work situation.
Helping the district with the timing of some projects is the fact that classes will run through the end of the week before high school students leave for experiential education all next week.